narlth
So this will just be a basic run down of the days events and then what happened when I got to meet Colin.
I woke up at 7:10am, grabbed all my stuff, got dressed and had something to eat before my taxi to the train station (because why would the buses actually be running?) arrived at 8. Got to the station with about 10 minuets to wait before the first London train of the day, at 8:26.
I arrive at Paddington at 9:40, and of course all the tubes are stopped from there expect the Hammersmith and City line which goes in the totally wrong direction. So I walked down to Lancaster gate station and got the tube the Embankment and then cross the bridge to The Royal Festival Hall, which was the location for the event.
By this time it was about 10:30, and I got band number 181. That's an alright number I thought, it will be second row at worst. The staff told us to return about 1, so I waited for my London friend to arrive, and showed her where to get a wrist band, then we went to for a little wonder up and down the southbank, before grabbing some food.
We returned to the meeting point about 12:40, and then we waited, and waited.
The staff finally go us into order at about 2:05, at which point we then waited some more. Until 3:30 before we were finally let into the pens for the red carpet. We found a spot on the second row, about 3/4's of the way up from the start of the carpet, and sat.
Another friend from twitter was able to join us even though they had a much higher number (yay).
Then there was more waiting, the carpet was not to start until 5pm. The staff bit hand out free water so I don't think anyone fainted but it was so, so hot. (I have sun burn on the back of my neck)
Here's a member of the press using this list as a hat: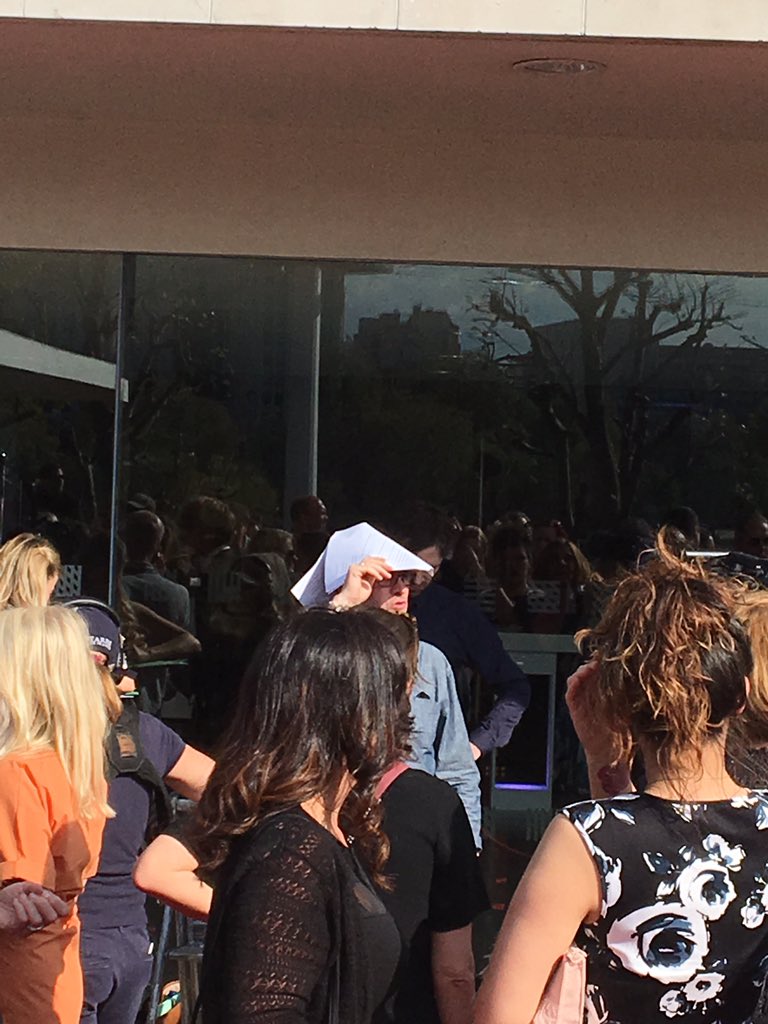 Members of the public with tickets started arriving around 4:20, and all of us stood up. I was stalking was attendee news on twitter, whilst we were waiting, and bearing in mind by this point we didn't know for sure if Colin would actually be there, when I spotted this retweeted onto my timeline: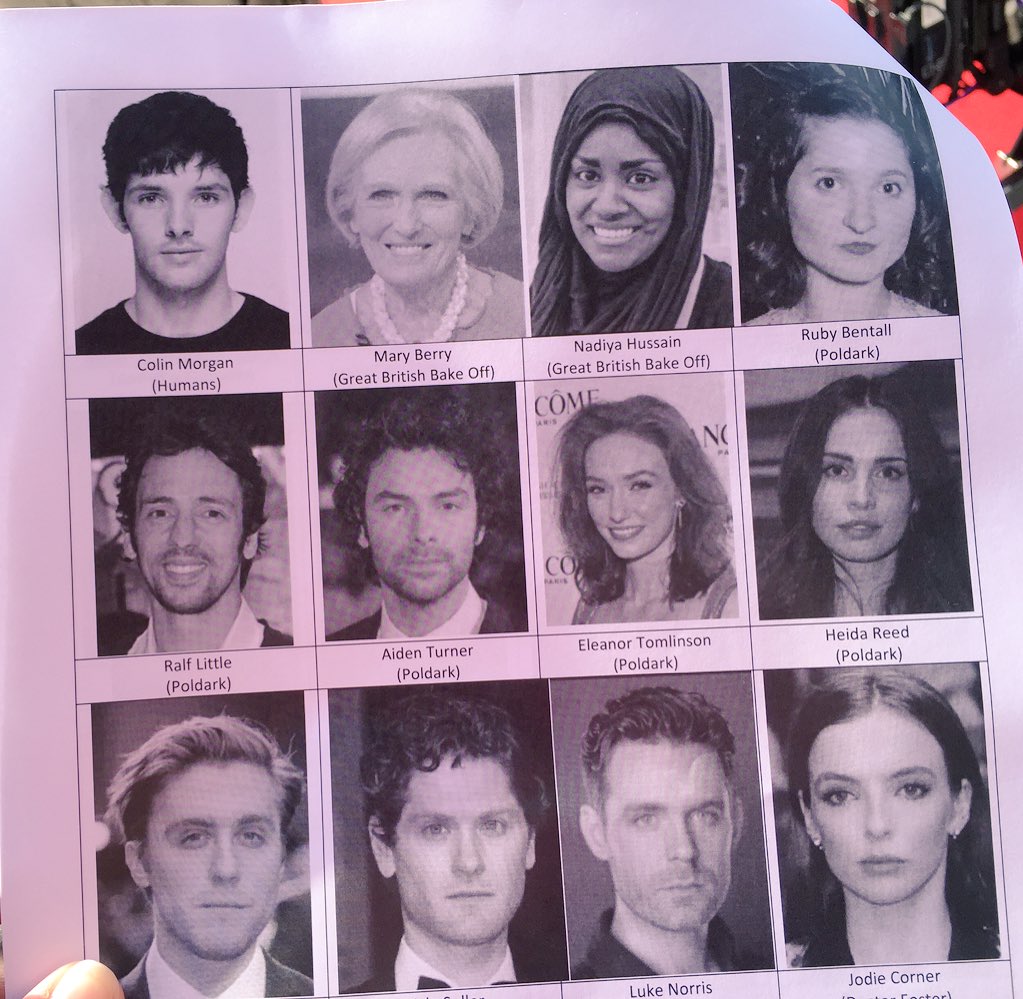 I showed my friends and we had a mini flap.
I then muted notifications on my phone, because I will never live tweet a red carpet event, it's too fast paced and I could end up missing someone.
I got autographs off a couple of presenters of some British shows, almost got Will Mellor who played Valient.
I then got a pic with Steven Moffat (I have his auto a past event), as a test of, can I actually do a pic from here? The answer being, umm not really? I was shaking so much I don't know how I didn't drop my phone.
From where we were stood, we couldn't really see up the red carpet, but then I spotted Tom Goodman-Hill coming up the carpet. I had suspected that the Humans cast would be arriving at the same time, and they had done, Katherine, quickly followed Tom, and then Colin!
We call out for Colin, and I wave because I have actually 0 social skills. But it worked! He came over to our area, started signing and taking pics a few people us from us, making his way down.
I had already decided that I would just go for the pic, as it common that the actors only have time for one thing per person. I shoved my notepad between my knees and by this time I am clicking the take button on my phone like a mad man.
Colin gets in front of me and I say. 'Can you take a pic of us? I can't really reach.'
He says, sure, takes my phone, and then says. 'I don't know how an iphone works, I don't have one.'
I tell him to click the middle button, and he does with his thumb, then passes my phone back over.
I tell him 'Thank you, very much.' Whilst my brains is basically short-circuiting.
So credit to Colin for with lovely pic <3 <3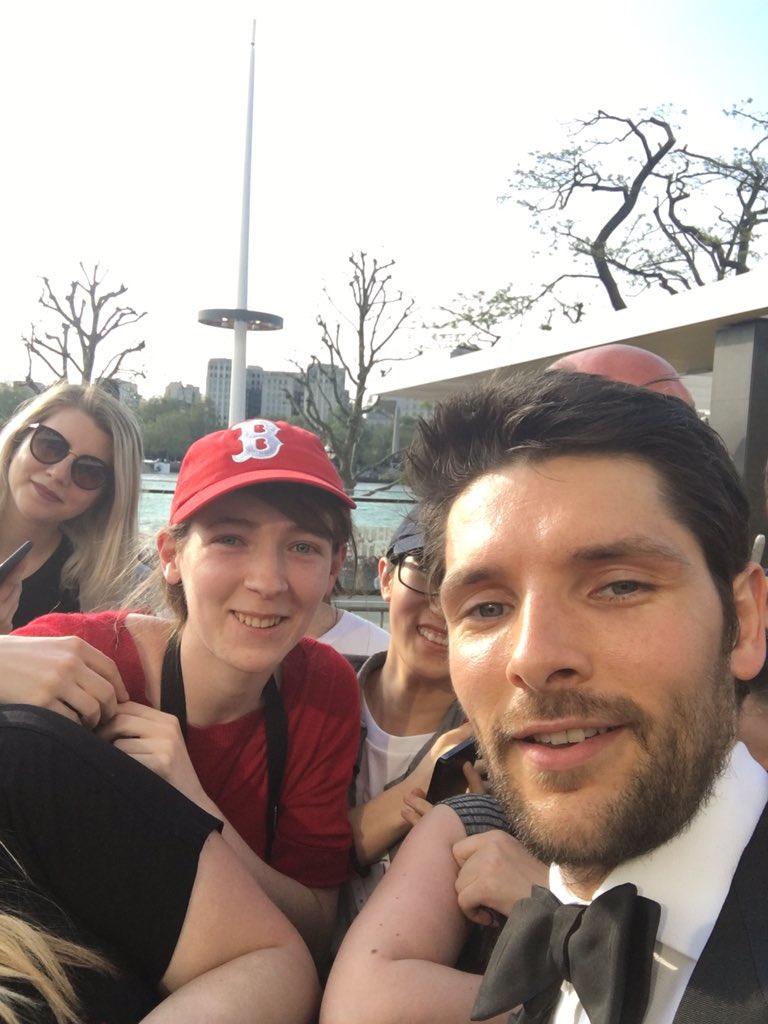 I also got a picture with Gemma Chan, which she had to take for me too.
The 3 of us are now collectively dying. We tried to call for Ivanno, Will and Emily, but they soon dived into an interview and we lost sight of. Interestingly, Colin and Gemma did not join in with the interview, standing back a little, and just waiting.
You can see them hanging around before the interview:
You can see all the photos I took of Colin
here
.